In my season of self-discovery, I have come to terms with having more in common with Good House Keeping and Women's Health magazines than Essence and Glamour. I have hot hair, I have sexy skin which are two topics on the cover of Essence this month. But what I really want to read about now if keeping my marriage close, raising my children and finding what foods stop stress which are in the May issue of Good Housekeeping.
I'm not hating on Essence mag where the clothes are cute, but who wears this stuff really? I have never truly been one deep into designer labels but do admit I do like my clothing to fit well even if it means buying designer clothing at a higher price. It's even better when I find my favorite labels at discount stores like Annie
Sez
,
TJ
Maxx
and
Marshalls
. My favorite designers are
Tahari
,
Anne Klein
,
Andrea

Behar
, to name a few. I LOVE the way
Tahari
fits me. I also do most of my shopping at
White House Black Market
,
Bloomingdales
,
Macy's
, and recently
Nordroms
. I like quality clothing and this is where I find it. I still can't bring myself to pay full price for clothing so I shop during dales and often use the coupons mailed to our home.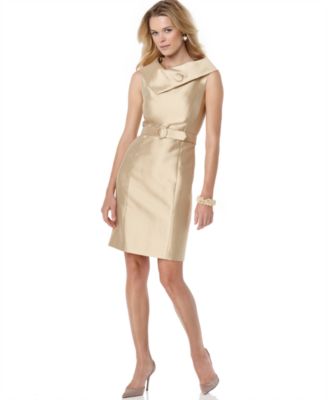 Tahari

by ASL Dress, Sleeveless Collared Belted Sheath
Orig. $198.00Now $98.99 at Macy's
As I'm discovering what works best for me as a mother of two P.I.P.'s (people in progress), I want to make my day to day as stress free as possible. I have come to realize that selecting a gym with a playroom just makes sense. My husband works out 3-4 days each week which means I better work out just as much. I can't sit back and watch him get fit while I pack on the pounds, right? We found a gym one town over that has everything we both need including a play room for the kids. I now have no excuse to not go to the gym. I don't always want to take them with me but it looks like it's the best solution right now especially since I have a 20 year high school reunion this summer,
lol
.
The daily chores of keeping house are starting to wear me OUT! I try to do 10 minutes of cleaning aside from the daily tasks of cleaning up after children. I recently picked up
this
book at Target and love it! Just the other day I took a few minutes while watching Oprah on my
DVR
in the bedroom and cleared out my lingerie drawer. The book gives mom's 100 ways to find 10 blissful minutes for yourself. I
sooooo
needed that. Trust!
I also had to break up from two of my hair stylists because their schedule was no longer compatible with my temporary "time off" from motherhood. My Brooklyn stylist moved to Manhattan making it just as hard to pay her a visit. Not only that, but she now books appointments online (that's fine) but when I saw that she only has five days available (now that she is styling for movies and videos) in an entire month AND she reserves the right to cancel the appointment at any time, I realized it was time to move on. Did I mention you have to leave a credit card to make an appointment and if you're late or cancel within 24 hours, she still charges you 50% of the appointment? I don't care how good you are but with children anything can happen at a moment's notice and I
didn
't want to take that risk. It was just discovered that my neighborhood stylist, who is just seven minutes away, double books. Well, I only get 12 hours over two days to do personal business while the kids are with a sitter and I do NOT want to spend 4 of them in a salon.
What shortcuts have you made?
I found this article the other day you might enjoy.